Every year Keller Williams holds a training convention called Mega Camp that is held in Austin, TX. This year it fell a couple of weeks after Hurricane Harvey hit Houston, and many of the agents who were scheduled to attend Mega Camp, including my mom, felt that if they were traveling to Texas they should be helping those in need; not attending a training seminar. Many agents reached out to Keller Williams Realty International in Austin because of the giving culture that Keller Williams has created within our company. Due to this outpouring of care, Mega Camp, an event that Keller Williams had been planning for a year had to be quickly and radically transformed into Mega Relief, a humanitarian effort for victims of Hurricane Harvey.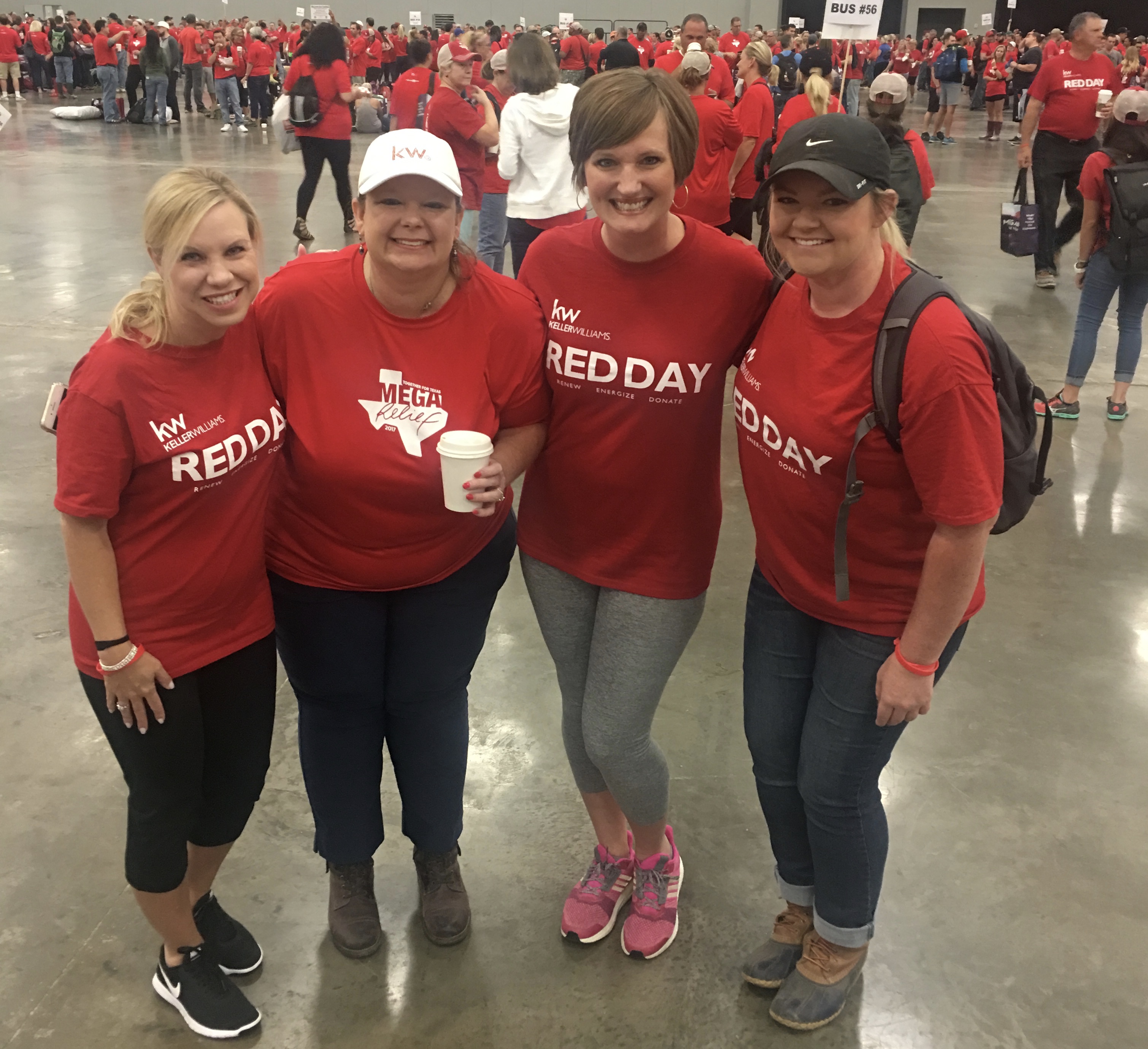 Keller Williams Preferred is ready to load up onto the buses and get to work!
I was fortunate enough to be able to go to Austin with my mom to take part in Mega Relief. The Keller Williams Realty International team sent out a sign-up form in which we could choose what roles we would like to have in the relief effort. Many options were available such as taking care of displaced animals and de-mucking homes that had been destroyed. Keller Williams strove to do their best to ensure that our efforts would be going to the areas that required the most attention.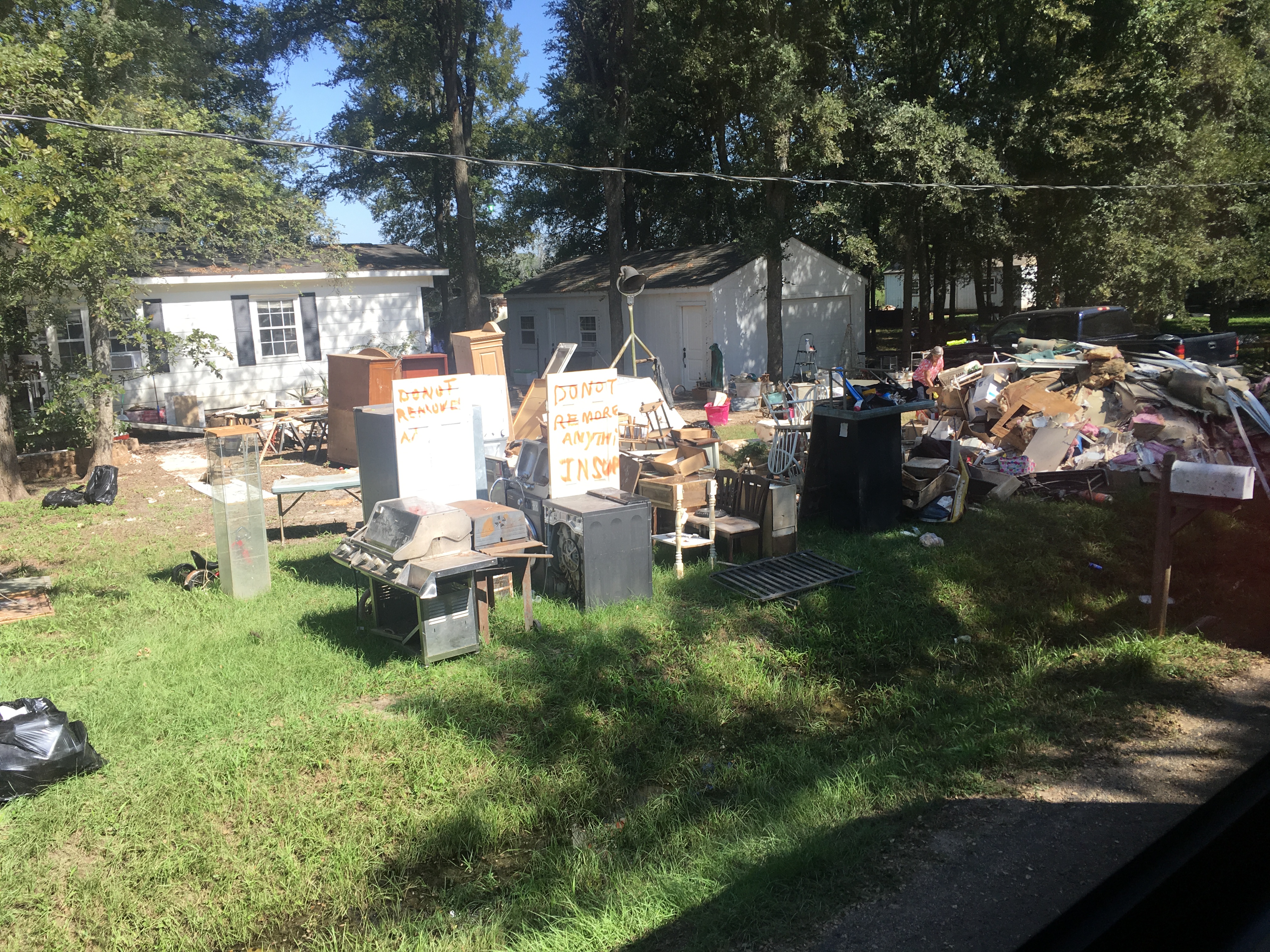 I chose to deep clean homes in Sealy, TX, a small town outside of Houston (about a two-hour bus ride from Austin), that had been overlooked by major relief efforts because it was truly in the middle of nowhere. We were helping de-muck homes in the Lazy River Subdivision, which was down a long, winding back road, and as we drove down it, I believe we passed about five cattle and horse ranches. When we finally approached the homes that we were going to be working on, we saw the damage immediately. People's couches, dressers, mattresses, bicycles, baby dolls, and more were piled up in the street. You could smell the stench of mildew and mold amongst the piles of damp household and personal items. When we unloaded from the buses, we were greeted by a local church that was gracious enough to provide us with coolers of drinks and a meal for lunch.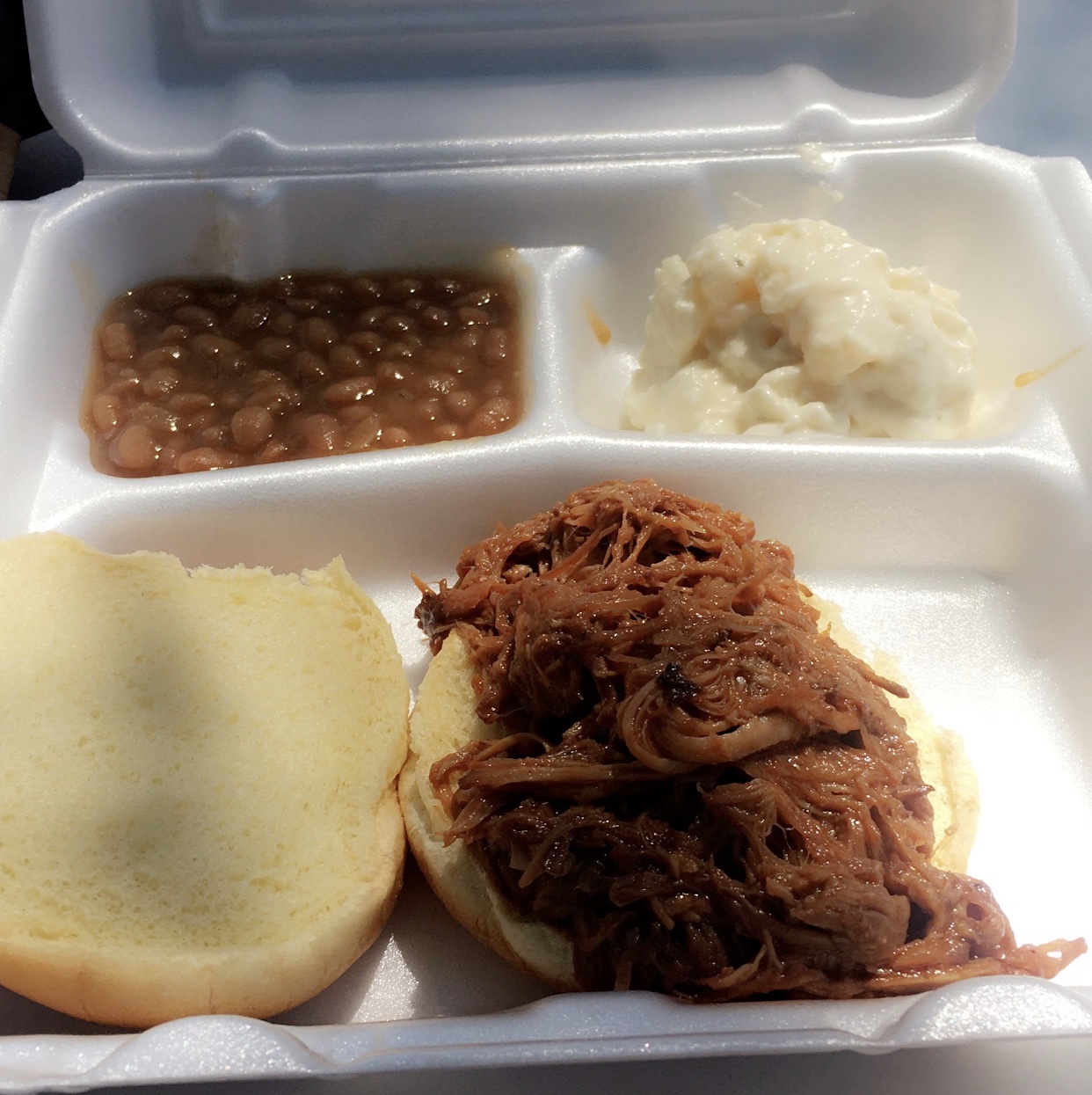 Thank you Christian City Fellowship for the awesome lunches!
The pastor of the church welcomed us and explained the need in the area. Lazy River Subdivision was affected by a Hundred Years Flood just fifteen months before Hurricane Harvey came through. Many of the people who live there had just moved back into their homes after having to renovate due to flood damage. After Harvey passed through, these homes were filled with 3-6 feet of water, which means that all of the furniture, appliances, drywall, insulation and flooring had to come out.
When I walked into the first home, the stench was almost unbearable. No one was without a mask, but that hardly helped the smell. Mold had already started growing everywhere. Just when we thought we had taken off everything that was damaged, more pieces inside of the walls were coated with slimy mold. All I could think was, "how is this person ever going to be able to live in this home again?" When we were tearing out soggy insulation, cockroaches of all sizes were crawling everywhere and the drywall was peeling off effortlessly, exposing the skeleton of the house. Sadly, the owner of that home was undergoing dialysis that day, so we were unable to meet him. Not only was his home destroyed, but he also had to deal with health problems. It was absolutely heartbreaking to know that he was not only going through horrible health issues, but he also did not have a home to come back to after a long day of medical care, which is something I simply cannot fathom.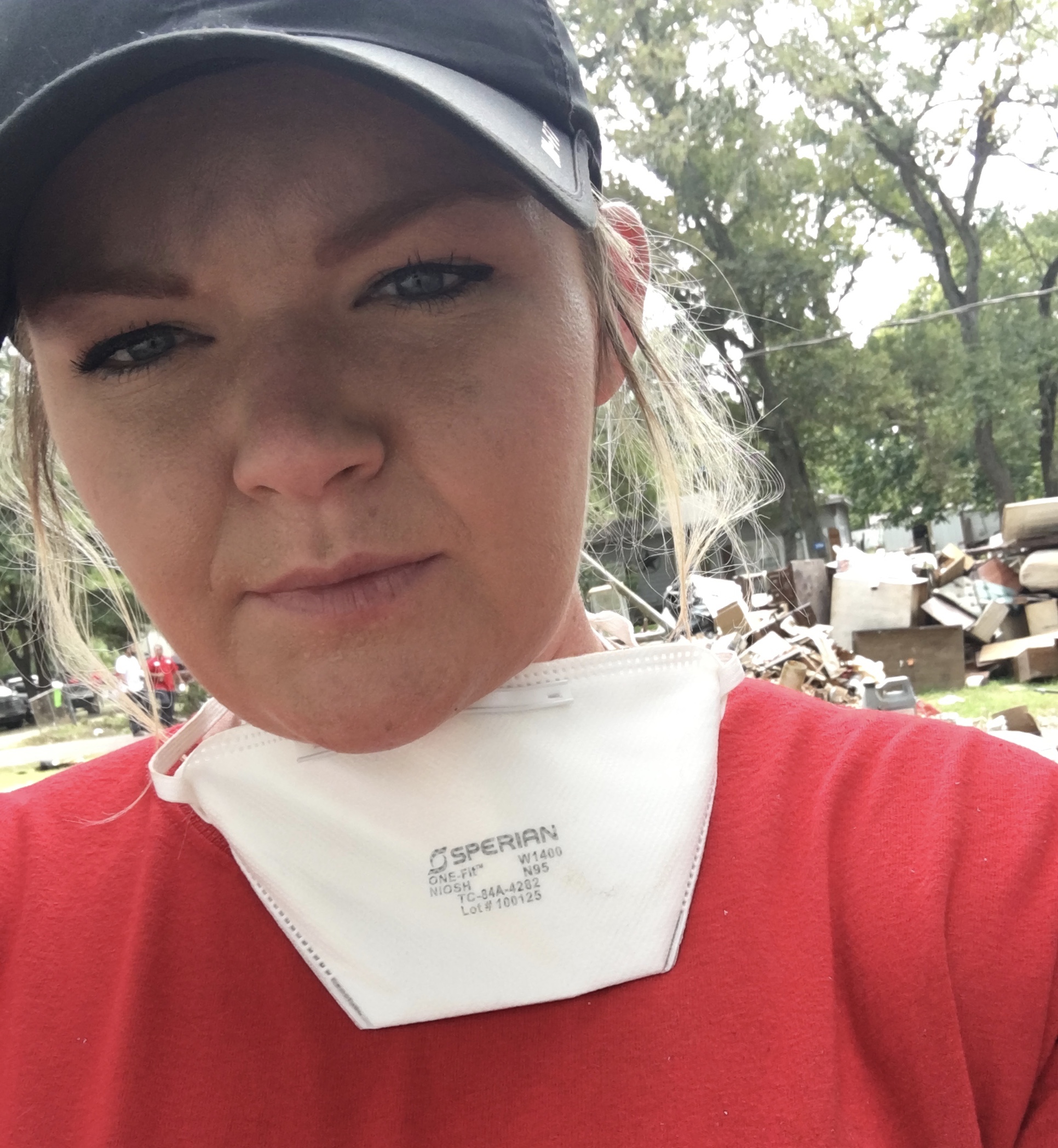 A lovely sweaty selfie that I sent to my team back home.
As we traveled to our next place of work, I found out that Gary Keller, founder of Keller Williams Realty, was also in Sealy that day. He spent the day de-mucking houses just like I did. This was a testament to Keller Williams Culture. Fortunately, the owners of the next home were there, so they could tell us what they wanted. They were in the process of re-building their home on stilts, but were regrettably still living on the bottom level when the hurricane came through. In the short time that we were there, they shared with us their gratitude and the impact we had on them. He told us that we saved him at least two weeks of work, which was eye opening to realize the significance of our strength in numbers.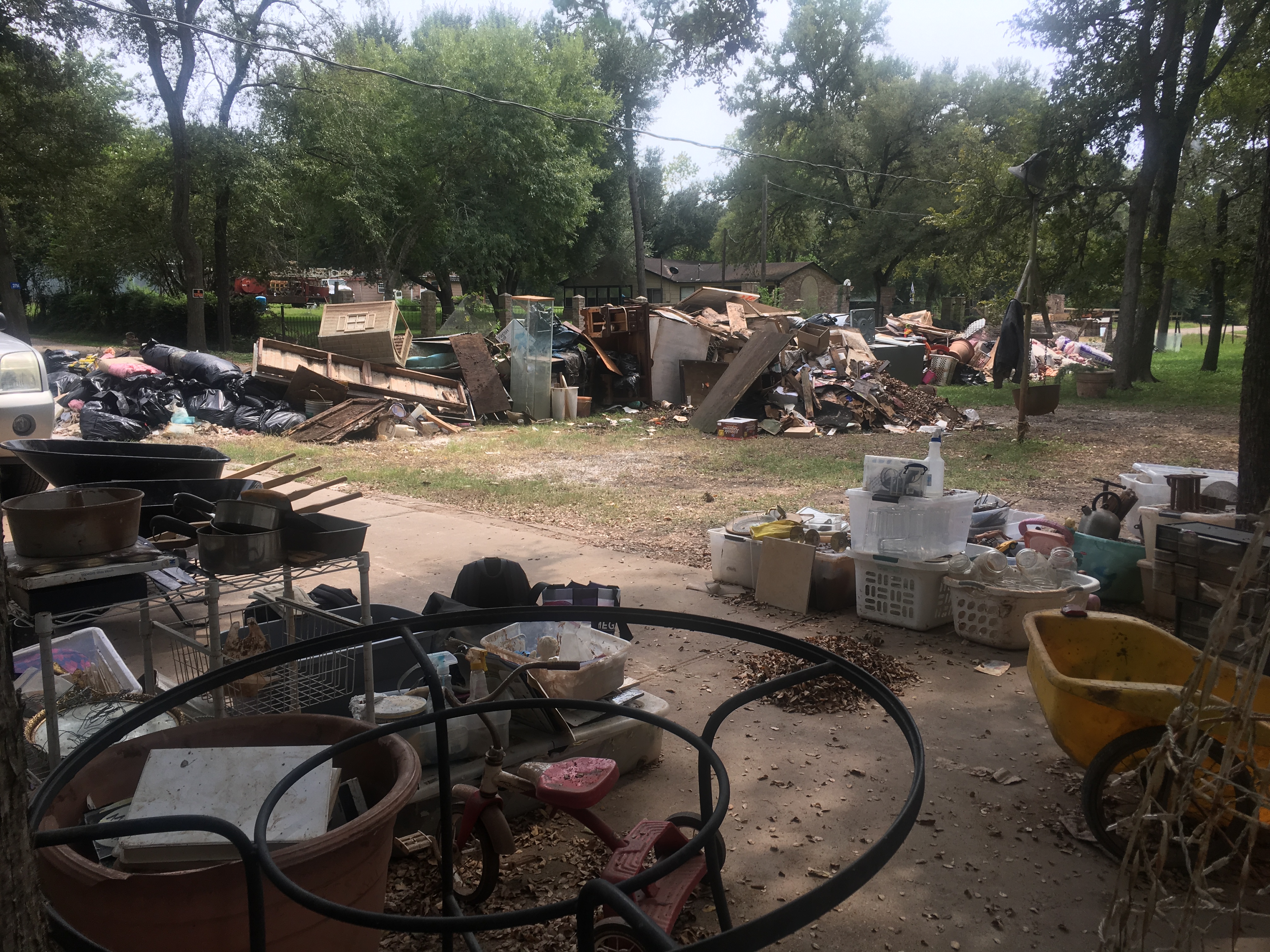 My last day in Sealy, TX was by far the most memorable. The owner of the home I was working on is one that I will stay in touch with for the rest of my life. He was a simple man who was full of wisdom and kindness, and he could not stop expressing his appreciation for us and our company. He told us everything that he had seen that week was 'beyond his wildest dreams,' and that he could not believe our company was built on such a profound culture that we were willing to give our time, leave our businesses, and cancel the convention to help his small, forgotten community. The team I worked with that day became a family because of the stench we all inhaled, the gratitude that Mr. Whitmore imparted on us, and mostly because of the KW Culture that we all value and share. Mr. Whitmore not only made sure we knew the difference we made to him and his community, but he stressed to us how Keller Williams stood out for being such a transparent company that allowed us to all open up, share in our successes and our failures, and take part in the culture. Keller Williams definitely made a difference in my life that week, but it was Mr. Whitmore's kind soul that had a huge impact on me that day.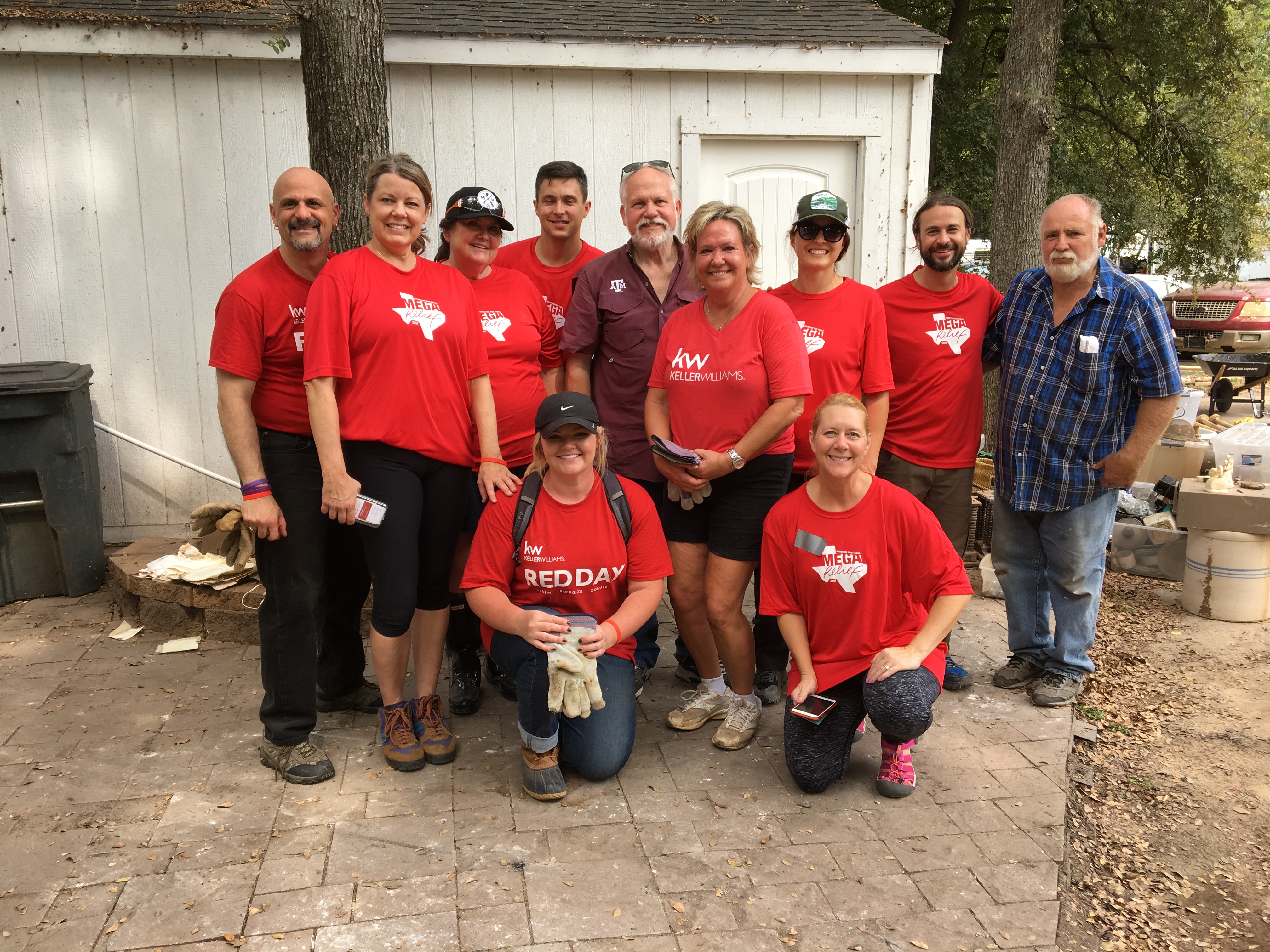 Our Mega Relief team's photo with Mr. Whitmore and his kind neighbor.
On my last day in Austin, I helped in the supply center where containers of toiletries were being packaged to go straight to the relief center. They contained items like towels, tampons, toothbrushes, soap, deodorant, snacks, and toys for children. Each container contained at least one note of encouragement from a KW family member. There is no telling how many containers we filled, but I know that in one shift we filled five coach buses full using the storage underneath, all of the seats, and the overhead bins. I realized how serious the need in Austin was once I learned that there were many refugees who were staying in relief centers within the city. Fortunately, there were so many donations, that we could keep making containers that were to be sent to the victims of Hurricane José as well.
Honestly, I did not want to leave. After seeing how much good we did, I was very happy, but I wanted to do more. Thankfully, I know Keller Williams is going to take care of the people I met in Lazy River. I also know the church that hosted us so graciously in Lazy River is going to be there for the community as well. I plan to keep in touch with Mr. Whitmore; I know he will be able to give me great advice, and he will always remind me of what an awesome thing Keller Williams did that week.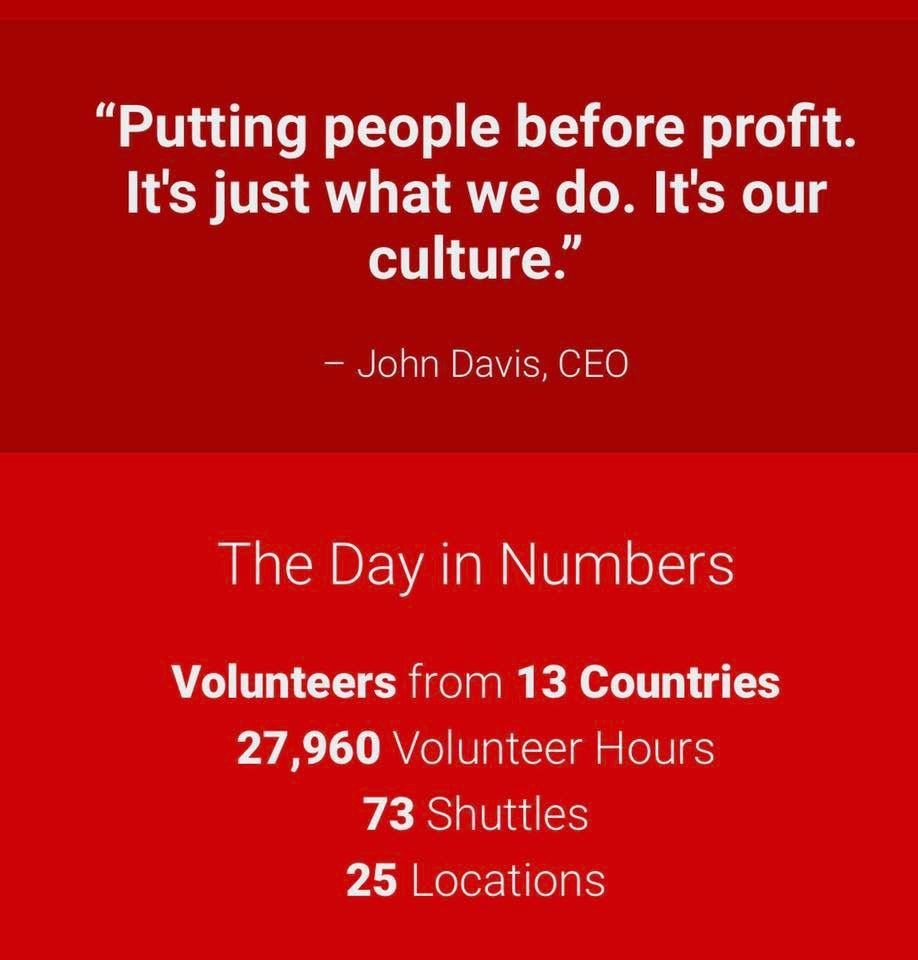 The above photo is a brief synopsis of the first day of Mega Relief that was provided by Keller Williams Realty International.
*Permission to share photos of damage and debris was given by the homeowners.